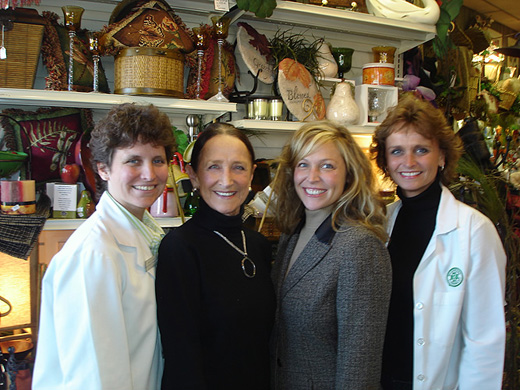 Pitkin Drug & Gift Shoppe ~ the corner "Rexall" drugstore …
We are located in Whitehall, near the shores of White Lake, an inlet from Lake Michigan. Being situated about half-way up the west coast of the lower penninsula of Michigan in Muskegon County, makes us a great getaway destination from larger, surrounding cities like Chicago, Detroit, Lansing and Grand Rapids.
Besides being on the beautiful water, our small town charm is one of our greatest assets. Here, at Pitkin Drug & Gift Shoppe, we take that to heart. Customer service with all the little extras is what we give. We offer FREE gift wrapping, have a lay-away program, ship gifts and will even help you out with your bags!
Our family has been working together for years and we feel our employees and customers are part of our extended family. "Let Our Family take care of Your Family" is part of our mission statement. My father, Don Nordlund, and two sisters, Dee Briegel and Stacey Uganski, are the pharmacists. They take the time to make sure every question is answered and understood. They go the extra mile to work with each and every patient's individual needs.
"Distinctive Gifts with a City Flair" describes our home decor and gift shoppe. My mother, Becky Nordlund, and I do the buying for both the gifts and clothing. We try to capture the essence of being the spot to find "one of a kind items." We have a bridal registy which also gifts the bride and groom 10% of the total purchases off their registry. Our clothing lines are city styles with a great range in pricing. We also have the largest selection of resort T-shirts and sweatshirts in the area.
The displays and inventory are a must to come in and see…at least that is what I've heard. Some of the comments are: "WOW, this is awesome!" "I could spend a whole day here and still not see everything" "I don't know where to look first" "I went to see a Broadway Show and everyone asked where I got my dress, and I said the pharmacy on the corner in downtown Whitehall."
You will have to come in and see for yourselves. We can't wait to see you!
Amy Nordlund-West